Legends Makeup Academy – honoring the Makeup Legends of the past, introducing students to the Legends of today, and training the Legends of tomorrow. We are the next evolution in film and television makeup education.
LMA aims to provide the highest level of makeup instruction to aspiring and working makeup artists alike. We focus on in-person hands-on training in our classrooms, utilizing the most up-to-date materials, technology and techniques taught by some of the most renowned artists in their field.
We keep our classroom capacity limited in size which allows for the optimal teacher to student ratio. We have portfolio review for our intermediate and advanced classes, ensuring that all students can study in an environment that fosters education and respect. We focus on ethics and business in our classes, passing down the torch of decades of knowledge of proper interaction and preparation with production, clients and fellow artists.
Ve Neill teaching hair laying and character makeup.
Balanced class sizes
Classes are small and focused on hands-on training and constant instructor feedback. We have the most up to date classrooms with audio visual aids along with a state of the art photography and fully stocked prop/wardrobe with wigs.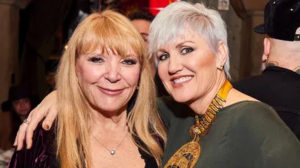 Ve Neill with Emmy Winning Makeup Artist Erin Kruger Mekash
networking opportunities
LMA has solid networking and job support based on our Founder's connections and experience, along with introductions to the most respected artists in the industry.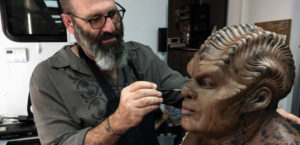 Howard Berger airbrushing Chad Coleman as Klyden for The Orville
Quality instructors
LMA is focused on the highest level of professionalism and ethics, in and out of the classroom. We expect our instructors, staff and students to treat everyone with respect and with the utmost of professionalism at all times.